News
NCCAT presents BTOY award at Orange County Meeting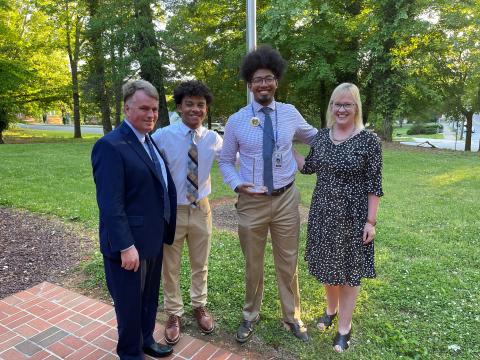 Xavier Adams, an Orange County High School teacher in Orange County Schools, was named the North Carolina Center for the Advancement of Teaching (NCCAT) 2022 Prudential NC Beginning Teacher of the Year in a special ceremony at the John W. Bardo Fine and Performing Arts Center on the campus of Western Carolina University Thursday, February 17, 2022.
NCCAT was honored to be at the Orange County Schools Board of Education meeting for the presentation of the NCCAT Prudential NC Beginning Teacher of the Year Award to Xavier Adams. NCCAT Executive Director Dr. M. Brock Womble and Deputy Executive Director Dr. Karen Sumner presented the award at the meeting. Student Ethan Horton talked about the positive impact Mr. Adams has on students. More on the award
https://bit.ly/3kT2DUl
About NCCAT
Increasing teacher effectiveness is fundamental to improving public education. NCCAT provides teachers with new knowledge, skills, teaching methods, best practices and information to take back to their classrooms. For more information about NCCAT's professional development programs, visit www.nccat.org or call 828-293-5202.