News
NCCAT Summer Registration Open Now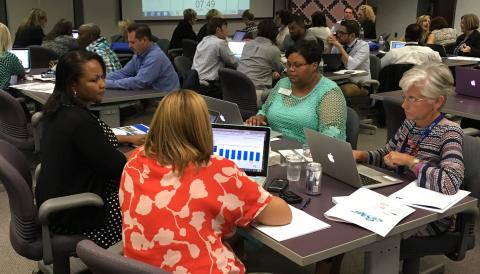 NCCAT offers a variety of professional development opportunities this summer.
CULLOWHEE—North Carolina educators have several opportunities in June, July and August to attend the North Carolina Center for the Advancement of Teaching (NCCAT), a recognized national leader in professional development programming for teachers.
Registration for these programs is open now. Applicants are encouraged to register as soon as possible to ensure a spot. Programs are available to North Carolina educators at the Cullowhee and Ocracoke campuses, online and with NCCAT faculty visiting school districts. For more information visit www.nccat.org.
A few of the programs offered are:
14399 • THE CANVAS CONNECTION: INTERMEDIATE USERS–CULLOWHEE
June 12–15
Designed for those that have participated in NCCAT's "Canvas Connections: Beginning Users" program or that have comparable intensive Canvas training.
Canvas, North Carolina's Learning Management System (LMS), is your place for one stop learning and course management. Teachers who are currently using Canvas will learn how to use buttons and banners to give their course a more professional look. Engage students by creating blended lessons using Canvas and a variety of Web tools. Design an ePortfolio for professional use. Become more familiar with using an LMS to collaborate with teachers from across the state. This program is designed for intermediate users and will allow teachers time to map their course for an entire semester using the calendar feature.
14420 • READING RESOURCES: EQUIPPING YOUR CLASSROOM FOR READING SUCCESS–OCRACOKE
July 17–21
Reading, as the old saying goes, is fundamental. However, not all public school students have access to the variety of materials necessary to build a strong reading foundation. Research grant opportunities for purchasing books, digital devices, and other materials to aid in literacy instruction. Explore multiple means of acquiring literacy-related donations and discover open-access materials online. Finally, participate in the sharing of strategies for the effective use of these resources.
14429 • SUCCESS FROM THE START: HOW TO SURVIVE AND THRIVE YOUR FIRST THREE YEARS IN THE CLASSROOM–CULLOWHEE
August 7–11
Open to teachers in their first, second, or third year of teaching, this program supports motivated beginning teachers by strengthening their knowledge base and classroom expertise. Through experiential learning, teachers will explore pedagogical concerns including differentiated instruction, brain-compatible teaching, assessment, the effect of poverty on achievement and behavior, and classroom management. Come prepared to build professional competence and confidence, improve student achievement, and reinforce your commitment to this critically important profession.
For NCCAT's Calendar of June programs
For NCCAT's Calendar of July programs
For NCCAT's Calendar of August programs
For a full searchable list of NCCAT programs
About NCCAT
Increasing teacher effectiveness is fundamental to improving public education. NCCAT provides teachers with new knowledge, skills, teaching methods, best practices and information to take back to their classrooms. For more information about NCCAT's professional development programs, visit www.nccat.org or call 828-293-5202.