News
North Carolina Teacher of the Year Takes Part in Leadership Program at NCCAT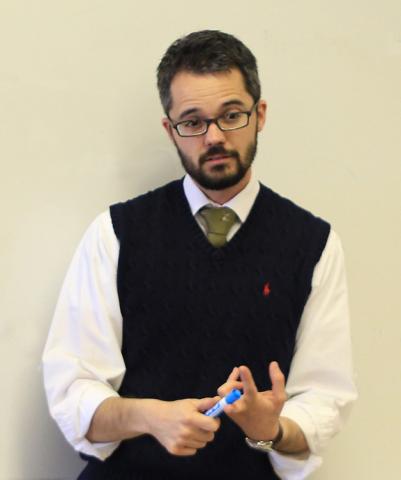 Bobbie Cavnar, North Carolina Teacher of the Year, recently took part in an NCCAT program. (Photo courtesy of Gaston County Schools.)
OCRACOKE (June 28, 2016)—North Carolina Teacher of the Year Bobbie Cavnar brought his message of giving back and caring deeply for students to the "North Carolina Center for the Advancement of Teaching Teacher Leadership Institute" in Ocracoke in June.
Cavnar, a South Point High School English and journalism teacher from Gaston County, and 19 other teachers took part in the program examining teacher leadership held at NCCAT, a national leader in professional development for educators.
"I was thrilled to find out I was going to have the chance to come to NCCAT," Cavnar said. "And it has been amazing. The group of educators bonded right away and we had great talks about our work and how to do even more for the students of this state. (NCCAT faculty member) Alton Ballance has been wonderful in bringing us together. I can't wait to see NCCAT's other campus in Cullowhee. I have had a great experience that all teachers should take advantage of." 
Cavnar, who has taught for 17 years with 13 being in North Carolina, will spend this next year traveling the state as an ambassador for the teaching profession.
It is a profession he was inspired to join by his father's career in charity work that made a priority of giving back to others.
"My father (Jim Cavnar) always taught us through his work for a international charity, that you should give back to society to make it better, and teaching has been the perfect way for me to do that," Cavnar said. "I'm thankful to have a chance each day to help children build their future. It is something I took to right away."
Cavnar's resume shows just how well he took to teaching.  He has received several honors including: 2016 Southwest Region Teacher, 2015 Wells Fargo Educator of the Year for Gaston County Schools, 2014 South Point High School Teacher of the Year, and South Point High School Most Influential Educator (voted on by students) five times. He earned a Bachelor of Science in English Education from Florida State University and a master's degree in English from UNC-Charlotte.
"We are elated to have the State Teacher of the Year in Gaston County Schools," Gaston County Superintendent of Schools W. Jeffery Booker said in a news release from Gaston County Schools. "However, we are not surprised to see Bobbie Cavnar win this prestigious award. He is an exceptional teacher who cares deeply for his students and is extremely passionate about public education."
Booker continued, "Simply put, Mr. Cavnar is a model teacher. He is admired and respected by his students, colleagues, parents and the community. When you think of great teachers, Bobbie Cavnar comes to mind immediately. He is a prime example of the many excellent teachers we have in Gaston County who give their all to students."
The process to being named North Carolina Teacher of the Year is a lengthy one.
"It is quite a process and each time I received an honor it was more surreal," Cavnar said. "At each step, I would tell my family 'this is the best thing that will happen to me in my career.' It is an amazing honor, when you consider all the great teachers in North Carolina."
Cavnar, who has been part of the Gaston County Teacher Induction Program for Success that trains incoming teachers to model best classroom practices, is excited about many of the duties that come along with North Carolina Teacher of the Year, especially having the opportunity to serve as an advisor to the State Board of Education for two years.
"I'm looking forward to providing a teacher's perspective and having a voice," Cavnar said.
The opportunity to share and hear from other teachers during the NCCAT program was very helpful, according to Cavnar.
Other teachers attending the program were: Elena Barnwell of Hendersonville Elementary (Henderson County); David Brancaccio of Durant Road Middle (Wake County); Judith Bruce of New Hope Elementary (Orange County); Jon Ezell of Polk County High (Polk County); Lauren Faucette of Julius I. Foust Elementary (Guilford County); Nichole Gibbs of Knightdale High (Wake County); Christine Gilmore of John W. Jones Elementary (Wilson County); Olivia Hall of Roseboro-Salemburg Middle (Sampson County); Moliee Holloman of Manteo Elementary (Dare County); Mary Hudson of Cape Fear Elementary (Pender County); Lori Khan of Middle College High School at DTCC (Durham County); Lindsay Knippenberg of Mooresville Senior High (Mooresville Graded Schools); Angel Ledbetter of Rutherford County Early College High (Rutherford County); Lisa Martin of Mendenhall Middle (Guilford County); Angela Mroczkowski of Uwharrie Middle (Randolph County); Danielle Scott of Uwharrie Middle (Randolph County); Marie Smith of Conway Middle (Northampton County); Laura Sokol-Scott of Leland Middle (Brunswick County) and Christopher Walters of Walter L. Parsley Elementary (New Hanover County).
"These 20 teacher leaders from Polk County to Dare County—seven from elementary, seven middle, six from high school—each brought years of educational and leadership experiences that represent North Carolina schools, from the mountains to the sea," NCCAT's Ballance said. "Our NCCAT campuses and program sessions allow each group the time to feel a part of something larger than themselves. I was especially impressed how this particular group was able to bond so quickly and make connections that will last a lifetime."
Ballance appreciated the contributions of so many that make the week possible.
"We are appreciative of our engaging presenters, including Superintendents Bill Harrison and Sean Bulson; Ros Guerrie, the Education Leadership Programs Manager for BB&T; Melody Chalmers, the North Carolina Principal of the Year; Mollee Holloman, Dare County Teacher of the Year; and the U.S. Coast Guard, for sharing their leadership experiences and perspectives," he said.
Cavnar follows Keana Triplett, an English teacher at Ashe County High (Ashe County Schools) and NCCAT alumna, as North Carolina Teacher of the Year.
About NCCAT
Increasing teacher effectiveness is fundamental to improving public education. NCCAT provides teachers with new knowledge, skills, teaching methods, best practices and information to take back to their classrooms. For more information about NCCAT's professional development programs, visit www.nccat.org or call 828-293-5202.