News
North Carolina Teachers of the Year Deepen Leadership Skills at Ocracoke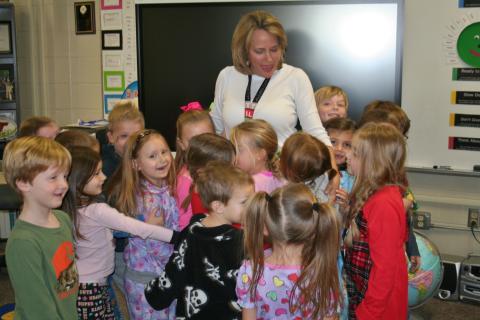 North Carolina Teachers of Year spent a week studying leadership with NCCAT.
OCRACOKE—North Carolina Teacher of the Year Lisa Godwin, an Onslow County kindergarten teacher, was among participants in the "Teacher Leadership Institute: Teachers of the Year" North Carolina Center for the Advancement of Teaching program July 10–14 at Ocracoke.
Godwin joined North Carolina 2016–2017 Teachers of the Year from across the state to examine educational leadership at NCCAT, a recognized national leader in professional development programming for teachers.
"NCCAT this week, has given me the confidence to lead and be a listener," Godwin said. "This program has helped me focus on being a leader who responds to what the needs are. Everything I've learned this week has been a valuable lesson I can take into this year."
Godwin is now in her third year teaching at Dixon Elementary School in Holly Ridge, where she returned to the classroom in 2014. She is a mentor teacher at Dixon Elementary, serves on the Superintendent's Advisory Committee and the district's Quality Council.
 Godwin worked in both Onslow and Lee county schools. She started in education in Sanford as a teacher assistant at Tramway Elementary Schooland later taught kindergarten at Deep River Elementary School.
She returned to the classroom after serving as an assistant principal at J. Glenn Edwards Elementary School in Sanford and Meadow View Elementary School in Jacksonville.  "I truly missed the daily positive interaction with my classrooms of students and knew that I could be a great change agent from within," Godwin wrote in her nomination submission for state Teacher of the Year.
Godwin was joined in Ocracoke by the following Teachers of the Year: Catherine Belair, Valley Springs Middle, Buncombe County; Iben Bogues, T.S. Cooper Elementary, Gates County; Deborah Brown, Research Triangle High, Durham County; Elizabeth Crosby, McAdenville Elementary, Gaston County; Carrie Franklin, Glenwood Elementary, McDowell County; Laura Hines, Corinth Holder Elementary, Johnston County; Jordan Hohm, Broadview Middle, Alamance-Burlington;  Jennifer James, Northeastern High, Elizabeth City/Pasquotank; Anthony Johnson, H.D. Isenberg Elementary, Rowan-Salisbury; Belinda Marino, Moravian Falls Elementary; Wilkes County; Teryn Odom, North Carolina Virtual Public Schools;  Amy Parker, Hertford Grammar, Perquimans County; Ann Peterson, Pinecrest High, Moore County;  Juandalynn Ray, Sampson Middle, Clinton City; Adam Reeder, Asheboro High, Asheboro City; and Leslie Schoof, Madison Early College High, Madison County.
The group of teachers impressed Godwin.
"They are amazing," she said. "It is like we've known each other forever. We all have the same purpose, and that is to grow children in educational knowledge. Everyone here puts children and students first. Whenever you have that kind of passion in one room, it is going to lead to good things."
Among the presenters, teachers heard from North Carolina Principal of the Year Jason Griffin of Hertford Grammar in Perquimans County.
"I am truly honored to be here representing North Carolina," Griffin said.  "I've enjoyed networking with the great teachers who are here. In my role as Principal of the Year, I'll be able to share what I've heard here with other teachers and leaders around the state."
Alton Ballance led the program for NCCAT, along with Bill Miller.
About NCCAT
Increasing teacher effectiveness is fundamental to improving public education. NCCAT provides teachers with new knowledge, skills, teaching methods, best practices and information to take back to their classrooms. For more information about NCCAT's professional development programs, visit www.nccat.org or call 828-293-5202.