News
North Carolina Teachers of the Year take part in NCCAT Program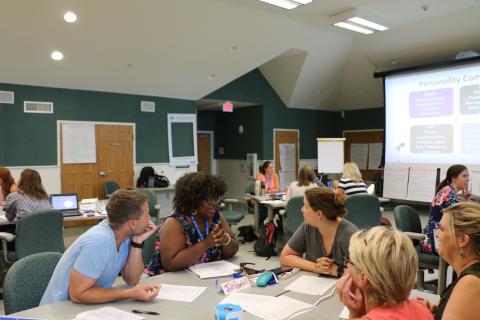 Participants in the "Teacher Leadership Institute: Teacher of the Year" program discovered how to continue their growth as an educational professional.
OCRACOKE - North Carolina's 2018-2019 Teachers of the Year joined the North Carolina Center for the Advancement of Teaching for "Teacher Leadership Institute: Teacher of the Year" in Ocracoke July 8-12.
They were able to examine educational leadership and positive responses to institutional change. Engage in the study and discussion of leadership principles, personal leadership traits, teacher leadership in schools, group dynamics and other aspects of leadership. Teachers are pictured above working with the US Coast Guard on leadership training.
Participants discovered how to continue their growth as an educational professional. They looked into their leadership strengths and areas of growth by focusing on challenges inside and outside the educational realm. Teachers of the Year joined in a dialogue about how teachers can spread their enthusiasm for learning to other members of the school community.
"This week has provided the ability to connect with teacher leaders who share a passion for innovation in our schools," said North Carolina Teacher of the Year Mariah Morris, who teaches at West Pine Elementary in Moore County. "I have been able to form meaningful networks with teachers across the state."
Among the presenters for the week were: Alton Ballance, Educational Consultant; Deb Brown, Associate Director Exploris School and 2017 NC Charter School Teacher of the Year; Ros Guerrie, BB&T Senior Vice President, Education Leadership Programs Manager; Freebird McKinney, 2018 NC Teacher of the Year; Dr. Patrick Miller, 2019 NC Superintendent of the Year, Greene County Superintendent; Dr. David Stegall, Deputy Superintendent of Innovations with North Carolina Department of Public Instruction; Dr. Karen Sumner, Chief Academic Officer NCCAT; and Tabari Wallace, 2018 Principal of the Year, West Craven High School Principal.
At the end of the program there was a meet and greet between the teacher participants and the NCCAT Development Foundation Board. 
"NCCAT is a truly remarkable professional experience!," explained Christy Howe, a teacher at Bradley Creek Elementary in New Hanover County. "NCCAT creates an uncommon learning experience that invites us as educators to see what is possible in our classrooms and schools and NCCAT equips us with the tools to make it happen."
Other teachers who were part in the program included: Chelsea Brantley, Nags Head Elementary, Dare County; Laura Brooks, Wilkes Central High School, Wilkes County; Caesar Campana, Hayesville High, Clay County; Angela Cusaac, Northern Vance High School, Vance County; Lacy Davis, East Wake Academy, Wake County; Ashley Erb, Western Union Elementary; Jennifer Friend, William R. Davie Middle STEM Academy, Halifax County; Jill Gambill, Ashe County Middle School, Ashe County; Erin Green, Heide Trask High, Pender County; Shiela Patterson, South Stokes High, Stokes County; Douglas Price, Voyager Academy, Durham County; Alianna Sigler, Jacksonville Commons Elementary, Onslow County; Shala Spence, Northeast Academy for Aerospace and Advanced Technologies, Elizabeth City/Pasquotank; Damon Walcott, Washington High, Beaufort County; Angie Walston, White Oak Elementary, Edenton/Chowan; Julie Young, Madison Early College High, Madison County.
About NCCAT
Increasing teacher effectiveness is fundamental to improving public education. NCCAT provides teachers with new knowledge, skills, teaching methods, best practices and information to take back to their classrooms. For more information about NCCAT's professional development programs, visit www.nccat.org or call 828-293-5202.