News
Northwest Halifax Teacher Talks About NCCAT Experience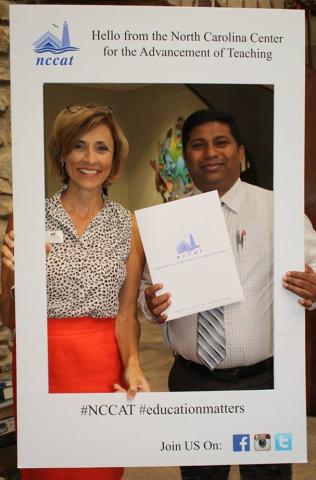 NCCAT Faculty Member Amy Jo Spencer and Srinivas Pannela.
Srinivas Pannela of Northwest Halifax High received the Marjorie T. and John S. Britt Honored Educator Scholarship to attend NCCAT this year. We appreciate his words about his time at NCCAT and what he will do with it in his classroom. Thank you to Mr. Pannela for all he does in education!
From Srinivas Pannela
I would like to thank the North Carolina Center for Advancement Teaching for selecting me as the Marjorie T. and John S. Britt Honored Educator Scholar for the 2017–2018 school year. I appreciate NCCAT giving me a chance to explore new horizons that will help me grow professionally, as well as individually.
I attended a workshop, "Literacy Instruction and Students with Special Needs: Strategies for Instructing ALL Students," at NCCAT on July 10–13, 2017. I have learned many things about types of disabilities, research based teaching strategies, various instructional methods (Universal Design Learning, differentiated, personalized, and individualized instruction) for special needs students, and bundles of assistive technology for preparing to teach special needs students. I discovered many different hands-on activities, learning materials, and lesson plans. My time at NCCAT provided effective classroom management skills and was an educational enlightenment.
It was a pleasure to be a part of this program. As a group we discussed specific educational actions for various special needs students that I am going to implement in my classroom. It was valuable to have this time of learning and sharing with peer teachers from across the state of North Carolina.
I'm truly blessed to have been part of the program. I know my students are going to enjoy the activities that will help them grow individually and increase their mastery level in academics. My students will definitely enjoy the new literacy skills I will be able to utilize through different teaching strategies. I shared the professional development experience I received at NCCAT with my Exceptional Children's Director. I am planning to share all the information with EC teachers on a district level.
I appreciate the wonderful professional development opportunity I had this summer. Thank you with much gratitude for NCCAT's generosity and continued support for North Carolina teachers.
Click here for more on NCCAT programs.
Click here for more on the NCCAT Honored Educator Scholarship program.
About NCCAT
Increasing teacher effectiveness is fundamental to improving public education. NCCAT provides teachers with new knowledge, skills, teaching methods, best practices and information to take back to their classrooms. For more information about NCCAT's professional development programs, visit www.nccat.org or call 828-293-5202.