News
Principal of the Year Speaks to Teachers at Ocracoke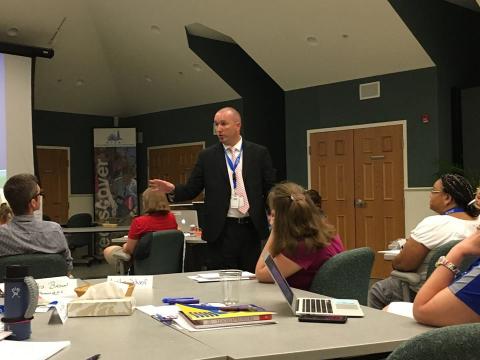 NC Principal of the Year Jason Griffin spoke to North Carolina Teachers of the Year during an NCCAT program.
OCRACOKE—Wells Fargo North Carolina Principal of the Year Jason Griffin made a presentation during the "Teacher Leadership Institute: Teachers of the Year" program in July at The North Carolina Center for the Advancement of Teaching.
North Carolina's 2016–2017 Teachers of the Year joined NCCAT, a national leader in professional development for teachers, in Ocracoke to examine educational leadership and positive responses to institutional change.
"I am truly honored to be here," Griffin said. "I've enjoyed networking with the great teachers who are here. It is very refreshing to see their perspective on education and what they are doing in their schools. In my role as Principal of the Year, I'll be able to go out and share what I've heard here with other teachers and leaders."
Griffin is the principal of Hertford Grammar School in Perquimans County. According to a news release from the North Carolina Department of Public Instruction: "The Title I school, where nearly two-thirds of the 400-plus students are from low-income families, achieved a school grade of "B" for the first time last year. The school, which enrolls third through fifth graders, was also just one of six elementary schools in the state's Northeast education region to earn at least a B while also exceeding their targets for academic growth."
Griffin has been a teacher and administrator in Perquimans and Martin Counties during his education career.
"Becoming principal of the year for the state of North Carolina is truly an honor," Griffin said. "I'm looking forward to having this opportunity to help advance education in our state. Our job as leaders in education is to help every child be the best they can be."
The other regional Principal of the Year finalists for 2017 were:
Southeast: Maria Johnson, Northside High (Onslow County Schools)
North Central: Kiley Brown, Efland-Cheeks Global Elementary (Orange County Schools)
Sandhills/South Central: Mary Hemphill, I. Ellis Johnson Elementary (Scotland County Schools)
Piedmont-Triad: Jusmar Maness, Balfour Elementary (Asheboro City Schools)
Southwest: Amy Rhyne, East Iredell Elementary (Iredell-Statesville Schools)
Northwest: Jeffrey Isenhour, Bunker Hill High (Catawba County Schools)
Western: Doris Sellers, A.C. Reynolds High (Buncombe County Schools)
About NCCAT
Increasing teacher effectiveness is fundamental to improving public education. NCCAT provides teachers with new knowledge, skills, teaching methods, best practices and information to take back to their classrooms. For more information about NCCAT's professional development programs, visit www.nccat.org or call 828-293-5202.