News
Regional Teacher of the Year Anthony Johnson Visits NCCAT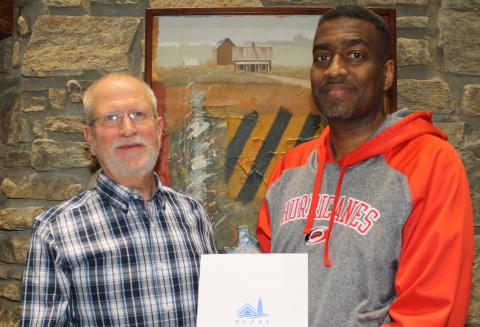 Teacher Anthony Johnson receives the Phillip J. Kirk Jr. NCCAT Honored Educator Scholarship. NCCAT presenter Glenn Gurley (left) is also pictured.
Isenberg Elementary School teacher Anthony Johnson had a very positive first experience at the North Carolina Center for the Advancement of Teaching, a nationally recognized leader in professional development.
Johnson is the 2017 Southwest Regional Teacher of the Year.  He attended "Moving From Consumers To Creators: Empowering The Digital Generation" at Cullowhee this year. He has taught elementary and middle school for the last 14 years, including 13 years in Rowan-Salisbury Schools.
During his time at NCCAT, he was part of a group of teachers from across North Carolina who discovered how to create learning experiences that take their students from being consumers to creators of digital content.
"The best part of this week has been the learning and the network of other teachers I have met who will be lifelong friends," said Johnson, who teaches fourth and fifth-grade science and social studies. "The time to collaborate has been invaluable. Teachers should come to NCCAT. This is a tremendous experience."
Johnson is also an Apple Distinguished Educator and has been involved in ISTE and NCTIES. A press release from Rowan-Salisbury Schools talked about the kind of class Johnson has—"His classroom, known as "Johnsonville," is home to an ongoing, real-world simulation of adulthood, where students work, create and learn about personal finance and entrepreneurial skills."
Johnson received the Phillip J. Kirk Jr. NCCAT Honored Educator Scholarship while attending the program in Cullowhee. This scholarship was established in honor of Kirk, a native of Rowan County, and public school teacher. Among his accomplishments, Kirk was named vice president of external relations at Catawba College. For sixteen years he was president and CEO of North Carolina Citizens for Business and Industry. He served for more than five years as chairman of the North Carolina State Board of Education. The scholarship provides instruction and program materials, substitute teacher reimbursement, teacher travel, lodging, and meals while on the NCCAT campus and $250 for use in the classroom.
Click here for more on how to apply.
Nine Regional Teachers of the Year have been selected for the statewide competition. The 2017 Burroughs Wellcome Fund North Carolina Teacher of the Year will be announced April 6 in Cary.
Click here to find out more about upcoming NCCAT programs. 
About NCCAT
Increasing teacher effectiveness is fundamental to improving public education. NCCAT provides teachers with new knowledge, skills, teaching methods, best practices and information to take back to their classrooms. For more information about NCCAT's professional development programs, visit www.nccat.org or call 828-293-5202.