News
Wilson County Instructional Coach Finds Value in NCCAT Program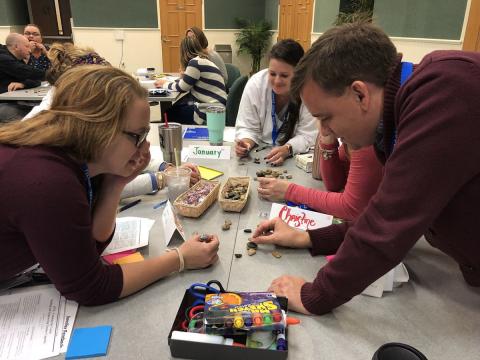 For more on Bryan Holley's experience check out @BryanHolley5 on Twitter.
OCRACOKE—Wilson County School Improvement Coach Bryan Holley found "Coaching The Coach: Building and Empowering Teacher Capacity" to be exactly the type of professional development he had been looking for.
"What a wonderful time it has been collaborating and learning with this awesome group of educational leaders," he wrote on Twitter. "NCCAT's 'Coaching the Coach' session is simply amazing!"
The program took place from November 13–16 on Ocracoke. Instructional coaches have a direct impact on instruction and student achievement in today's schools. Coaches use their role in the schools to enhance others' abilities through motivation and support. This role can be an overwhelming and daunting task. This program, led by NCCAT faculty member Amy Jo Spencer, offered inspiration, guidance, training, strategies and evidence based practices for the 21st century instructional coach.
One part of the program featured participants writing their vision statements.
"The most influential people in our world began with a vision. Visions are powerful," Holley said. "Visions are our driving force. Visions keep us grounded and focused. Visions are vital to positive impact!"
About NCCAT
Increasing teacher effectiveness is fundamental to improving public education. NCCAT provides teachers with new knowledge, skills, teaching methods, best practices and information to take back to their classrooms. For more information about NCCAT's professional development programs, visit www.nccat.org or call 828-293-5202.