News
NCCAT Honored Educator Scholarship Established for Distinguished Polk County Educator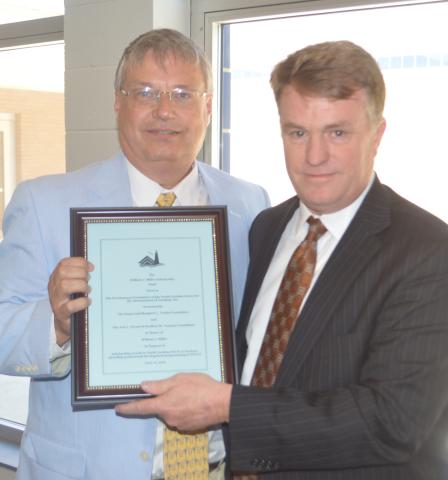 William J. Miller (left) and Dr. M. Brock Womble photo: Tryon Daily Bulletin, Michael O'Hearn
The North Carolina Center for the Advancement of Teaching, a national leader in professional development for teachers, has established the William J. Miller Honored Educator Scholarship to honor an educational leader who served more than 30 years in the school district he attended as a student.
The William J. Miller Honored Educator Scholarship has been created to honor Mr. Miller, who recently retired after a distinguished career in Polk County Schools as a teacher, coach, principal, administrator, and superintendent. NCCAT Executive Director M. Brock Womble made the presentation of the Honored Educator Scholarship during Mr. Miller's recent event to mark his retirement.
"As a lifelong educator, one may never know the scope of one's impact or the extent of one's influence, but as evidenced today by the attendance of your family, friends, and colleagues, there is no doubt your guidance, direction, inspiration, and passion have truly touched the lives of many in Polk County," Womble said.
Mr. Miller served more than 30 years in Polk County School District. He is a graduate of Tryon High School and earned his bachelor's degree in secondary education from Wingate University and a master's in secondary education administration at the University of North Carolina-Charlotte.
He spent time on the men's basketball staff at Wingate before beginning a teaching career as social studies teachers and basketball coach at Tryon High School. He later worked as principal at Polk County High School and as the Polk County district's personnel director and assistant superintendent before becoming superintendent in 2004.
Once it is fully funded the scholarship will join 32 others that NCCAT provides for educators. The Honored Educator Scholarship Program pays tribute to outstanding educators and individuals whose teaching or influence in public education has made a positive difference in the lives of others.
Click here to find out more about NCCAT's Honored Educator Scholarship program.
About NCCAT
Increasing teacher effectiveness is fundamental to improving public education. NCCAT provides teachers with new knowledge, skills, teaching methods, best practices and information to take back to their classrooms. For more information about NCCAT's professional development programs, visit www.nccat.org or call 828-293-5202.