News
NCCAT Remembers Jean Powell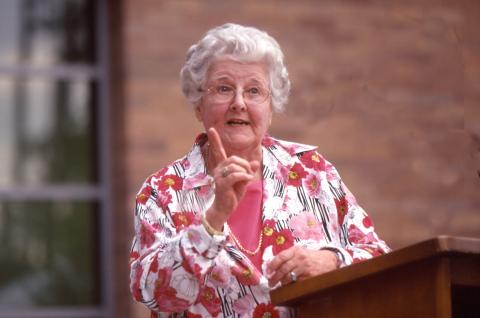 CULLOWHEE—Jean Paul Powell, a distinguished educator who first proposed the idea of the North Carolina Center for the Advancement of Teaching, passed away on Tuesday, May 16, 2017. She was 98.
A visitation will be held from 7–8 p.m. Friday, May 19, 2017, at Crumpler Funeral Home, 131 Harris Avenue, Raeford. A memorial service will be held 11 a.m. Saturday, May 20, 2017, at Scotia Village, 2200 Elm Street, Laurinburg. A graveside service will be held 4 p.m. Saturday, May 20, 2017, at Clinton City Cemetery. The family will receive friends also after the service at the gravesite.
In 1983, while serving as North Carolina Teacher of the Year, Mrs. Powell was invited to address the Commission on Education and Economic Growth about physical improvements needed in schools. Mrs. Powell made the suggestion during her speech about the idea for NCCAT, which was later established by the North Carolina legislature.
"We are deeply saddened to learn of the death of Mrs. Jean Powell," said NCCAT Executive Director Dr. M. Brock Womble. "I am glad to have had a chance to meet her personally; to see her great passion for North Carolina teachers and NCCAT.  Our thoughts go out to her family at this time. We will miss her dearly."
A native of Clinton, she retired as a teacher from Clinton High School. She attended Goucher College and graduated from Campbell University. She received her Master's Degree in English from Duke University.
Mrs. Powell's four children established an NCCAT Honored Educator Scholarship in honor of their mother. It pays tribute to her lifelong commitment to the teaching profession.
In lieu of flowers, the family has asked that memorials may be made to NCCAT.
Click here for link to Mrs. Powell's obituary.
About NCCAT
Increasing teacher effectiveness is fundamental to improving public education. NCCAT provides teachers with new knowledge, skills, teaching methods, best practices and information to take back to their classrooms. For more information about NCCAT's professional development programs, visit www.nccat.org or call 828-293-5202.