News
North Carolina Teacher of the Year leads NCCAT program
276 NCCAT Drive, Cullowhee 28723
Published on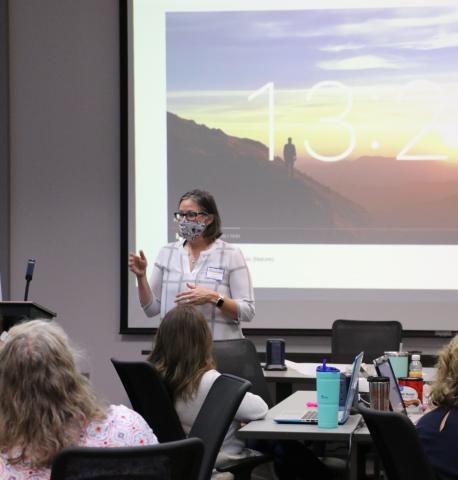 North Carolina 2020 Burroughs Wellcome Fund Teacher of the Year, Maureen Stover, leads program at NCCAT Cullowhee campus.
North Carolina 2020 Burroughs Wellcome Fund Teacher of the Year, Maureen Stover, who was also named one of four finalists for National Teacher of the Year, recently presented in the NCCAT program "Dollar Store Science." In this one day seminar, participants  learned ways to design lessons on a budget using inexpensive supplies and tools that you can find at your local discount store.
Stover, a science teacher at Cumberland International Early College High School in Fayetteville, is the first teacher from North Carolina to compete for the national honor since 2008, when Cindi Rigsbee, an Orange County middle school teacher, was a finalist. North Carolina's last National Teacher of the Year was Donna Oliver, from Hugh Cummings High School in Burlington, in 1987.
A former intelligence officer in the U.S. Air Force, Stover began her teaching career 12 years ago in Florida through the federal Troops to Teachers program. Stover has been teaching biology, earth and environmental Science and AVID for the last three years at the early college in Cumberland County, where she holds a number of leadership roles.
Known to her students as the "Science Mom," Stover told the NC Department of Public Instruction that her students understand that her commitment to them extends beyond the 90 minutes of classroom instruction each day.
"My students are my ikigai," she says. "In the Japanese culture, ikigai means life's purpose. My ikigai is helping my students develop academically, socially and emotionally as they transition from adolescence into adulthood. … I have found that one of the most important parts of being a teacher is the relationships I form with my students."
Stover has been a participant and presenter at NCCAT. She knows the value of teachers having this time to be learners.
"So much what we learn comes from organic conversations with other educators," Stover told teachers at NCCAT. "Discussions at lunch or after the class are really important. I love that NCCAT helps us facilitate that. I would recommend NCCAT to any teacher. It is truly a North Carolina thing to have professional development from the mountains to the sea. Now more than ever we need the time to step back from the classroom and collaborate with other teachers from across the state. It is a great opportunity."\
About NCCAT
Increasing teacher effectiveness is fundamental to improving public education. NCCAT provides teachers with new knowledge, skills, teaching methods, best practices and information to take back to their classrooms. For more information about NCCAT's professional development programs, visit www.nccat.org or call 828-293-5202.