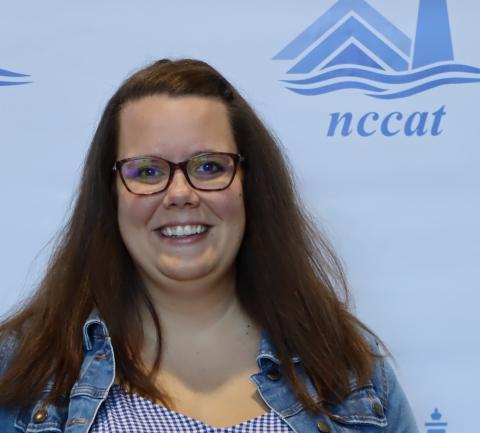 The North Carolina Center for the Advancement of Teaching strives to meet the current and future needs of North Carolina teachers. As a result, a new faculty member will lead math professional learning. Senior Math Specialist, Emily Myers, will support teachers throughout North Carolina.
Myers focus area includes secondary mathematics instruction. She joined NCCAT following her role as Secondary Curriculum Director in Beaufort County Schools. Previously, she served as the Mathematics Instructional Specialist for Beaufort County Schools and math teacher for New Hanover County Schools. Emily is working on her Ed.D. at UNCW and holds a B.S. in Mathematics from Meredith College, M.A. in Mathematics from Wake Forest University, and is a National Boards certified teacher.
"We are excited Ms. Myers will be sharing her expertise as part of NCCAT, working with teachers to make sure students receive great instruction in classrooms across North Carolina," said NCCAT Executive Director Dr. M. Brock Womble. "She is a valuable addition to our efforts."
NCCAT's previous Senior Math Specialist Dr. Bonnie Bolado has moved into the role of Chief Academic Officer at NCCAT.
CLICK HERE FOR MORE ON UPCOMING NCCAT PROGRAMS
CLICK HERE FOR NCCAT SCHOOL-BASED PROGRAMS
ABOUT NCCAT
Increasing teacher effectiveness is fundamental to improving public education. NCCAT provides teachers with new knowledge, skills, teaching methods, best practices and information to take back to their classrooms.